Felt food is a great creative play addition for your kiddos. Whether you're playing grocery store, restaurant or just creating different dinner ideas, felt food is a cheap and safe way to add to your play food collection. You can buy some great felt food sets, but they can get pricey and the cost adds up quickly. But with just a few items from your local craft store, and this free felt food pattern you can create your own felt food!
Creating felt food is something I love to do and over the years, I've created quite a few sets and I want to share the patterns with all of you, for FREE! These patterns are free to download and for each pattern, there will be an accompanying video tutorial. So even if you've never done any hand sewing, you can create these felt food pieces!
Grab the FREE Goldfish, Bag & Cookie Felt Food Pattern below and watch the video tutorial to see how it's put together!
---
The Video Tutorial
This post contains affiliate links. Head here to learn more about affiliate links and how they work!
---
The FREE Felt Food Pattern Breakdown
This free felt food patterns includes the pattern for a goldfish snack bag, the goldfish to fill it, and a cookie pattern that can be used for four different types of cookies. Let me break it down!
Goldfish Snack Bag & Goldfish
Included in the pattern are all the pieces to create this goldfish snack bag and the little goldfish to fill it. Goldfish crackers are a snack we always have on hand, so this pattern was definitely a hit!
These pieces use basic hand stitches, specifically the whip stitch and blanket stitch. Those are the only two stitches used to sew this bag and crackers!
The Cookies
This pattern has a basic cookie pattern, but it can be used to make four different cookies. All you need to do is change up the color of the base and what you attach to the top!
All of the cookies do share one similarity. They each have a double layer of low loft batting between the layers! This adds a little fluff and softness to the cookies, but is totally optional. Keep reading below to learn more about the individual cookies I created.
Chocolate Chip & M&M Cookie
The chocolate chip and M&M cookie are put together the exact same way. The only difference is the chocolate chip has only brown smaller pieces whip stitched on, while the M&M I whip stitched different colors and they're slightly larger. Both the chocolate chips and the M&Ms are just free hand cut, they aren't included in the pattern.
Peanut Butter Cookie
This is one of two pieces in the pattern that use a different stitch. To create the criss cross pattern on the top of the cookie, I used a back stitch. It's a super simple stitch, but really gives those nice straight lines that I was looking for! And that's all the decoration on this cookie!
Sugar Cookie
This is the last pattern piece and it has so any different variations that you could do. First, you can switch up the frosting color to use whatever color you want!
Then, you can use whatever decoration you want on top. I used seed beads here, but you could also use a basic running stitch for sprinkles, french knots, sequins, buttons, etc. There are so many different ways to make this piece your own.
**A quick note– I used seed beads for my cookie, but these were made for an older kiddo to play with. She wasn't putting anything in her mouth anymore, and because I only had one to watch, it was quite easy to see if the beads were to start coming off. Keep that in mind as you create your own cookie to play with.
---
Supplies You'll Need
Aside from the Free Pattern, you will also need a few supplies to create your own set of felt food. Here's the list I used.
Felt
Of course, you need felt. What kind you use will be completely up to you. I used felt sheets from the craft store, but if you are creating this set for classroom or daycare use you might want a nicer felt that can withstand that type of use. My felt came from the Michael's and Hobby Lobby craft section and cost around $0.40 a sheet if you don't catch it on sale. If you do, it's even cheaper.
There are many places you can buy 100% wool felt, which would probably hold up better. Many are on etsy, but there are also a few stamp companies that sell it as well that I know and trust and have ordered from before! Those are
There are also a few other places that I want to mention sell wool felt sheets and that have been around as long as I've been making felt food and have very good reviews. I have never personally bought from them, but wanted to still mention them.
Embroidery Floss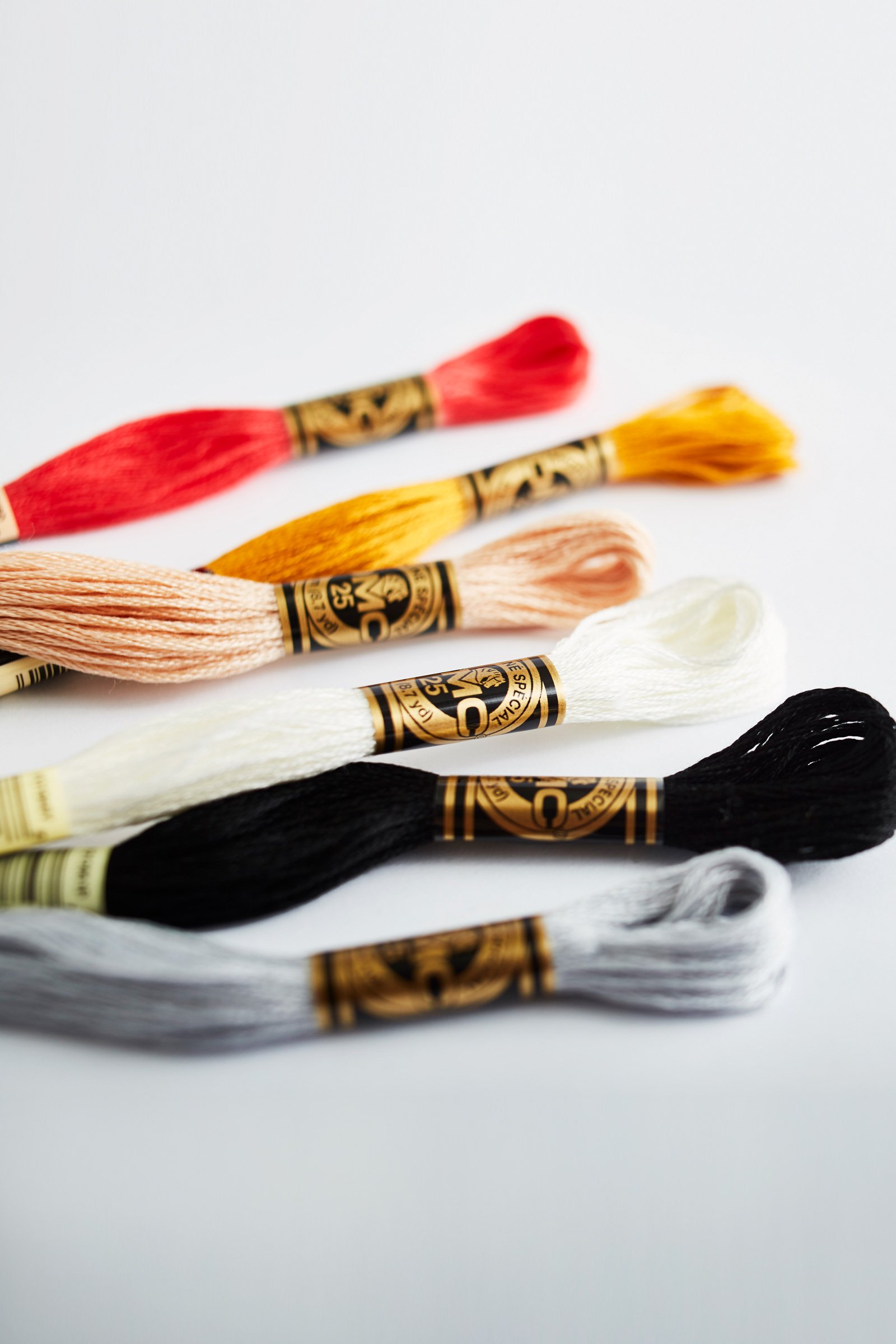 Embroidery floss is my thread of choice. It's strong, comes in a variety of colors that you can match to the felt, is readily available, and cheap. My favorite is the DMC floss. For me, it is the least likely to get tangled and is a well known reputable brand.
I like to use the six strand embroidery floss, which can be separated. To sew each of my pieces, I separate my strands in half and use three, which means each of my skeins go twice as far!
Hand Sewing Needles – Straight Pins – SHARP Scissors
These are the tools I use to sew my felt food pieces. Nothing extravagant, but the one thing I would splurge on here is a pair of really good sharp scissors. And then use those scissors for ONLY cutting fabric and felt!
I use a small intricate cutting scissor, but I would also suggest using a pair of spring loaded scissors. These are so much easier on your hands, and it's what I WOULD be using if my kiddos didn't swipe them and use them to cut open packages, clay, etc. But, I will be investing in a new pair when they go on sale!
Hand sewing needles are going to be a personal preference. I wouldn't use anything too big, but it needs to have an eye large enough to handle the embroidery floss. I like to buy a pack of assorted sizes, and then I can choose what I want to use depending on my mood. Also if you have trouble threading your needles or if you're making them to sell, a cheap needle threader might be a good investment!
Straight pins are a great addition to your hand sewing. They are just that extra set of hands you need to hold things together while you sew! They're cheap, but irreplacable!
Poly-Fil Stuffing & Low Loft Batting
These are two optional additions to your felt food, but I like to add them to give a little fluff and more dimension to certain pieces. They're cheap, and a little goes a LOOOONG way with these products. For reference, I've had my bag of poly-fil for about 8 years and it still looks mostly full.
For this pattern, I used a little bit of the poly-fil to stuff each goldfish. This adds a little plushness and makes them look a little more realistic!
The low loft batting is a great addition to this pattern. I used two layers of it between the cookie top and bottom. Again, this adds fluff and plushness, but using the batting keeps it a flat fluff and doesn't bunch up.
---
The FREE Felt Food Pattern
As with all of my freebies, here's a little reminder on "the rules".
This free pattern is yours to download and use as you want. If you create felt food with this pattern, feel free to sell that felt food if you want! However, don't try to sell the pattern. It's free for anyone to download, so share the link! Also, don't try to claim this pattern as your own because that's not cool or nice. Essentially, just be a kind and decent human!
Here's the FREE goldfish bag, goldfish and cookie felt food pattern!
HAVE FUN!!
I hope you all enjoy this free felt food pattern and are able to create some fun pieces for your kiddos to play with. If you do create some I would love to see it, so be sure to tag me on social media! If you have any questions, please leave them here, or on YouTube. Also, check the previous comments and maybe your question has been answered!
And if you do enjoy this post and video, let me know! These take a lot of work and if you want me to keep posting these free patterns and accompanying video tutorials , let me know!!
Until next time, happy crafting!!